Kamen Rider Gaim AC02 Kamen Rider Baron Banana Arms
Hello everyone,today lets talk about Kamen Rider Gaim AC02 Kamen Rider Baron Banana Arms. Banana !!! Lock On !!! come on, banana arms ! Knight of Spear.
Let's take a look from the main body and color first. Baron's core figure, basically being a red suit with chain mail and small bits of armor to create the European knight motif. His body covered with silver color,red and silver in head,hand and feet.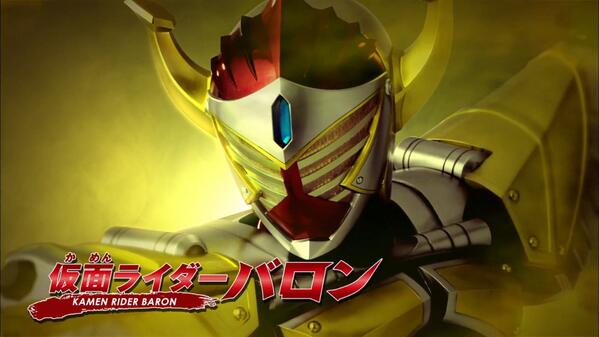 The Banana Arms is his main arms, and same as like Orange, just flip it on his head til the tabs lock in place, and unfold the banana around him to create Baron Banana Arms. Despite the large metal shoulder armor, it can raise up out of the way to make sure you can still get a number of superb poses with this action figure. Also included is the Banana's spear, the signature weapon of the Banana Arms, that fits in Baron's hand. The best part of this action figures (and the line in general) is the mix and match capabilities. This means you can wear the Banana Arms on Gaim, and the Orange Arms put on Baron, to create all new forms that might not make it into the show. Another Kamen Rider Gaim AC toys are released, there will be a lot number of combinations between Riders and Arms to create some pretty interseting and fun forms! While this line doesn't have the star detail and articulation as an S.H.Figuarts release, if you're looking for something fun, the Arms Change line is great. Baron is no exception to this, and is a a really fun toy and unique representation.
Kamen Rider Gaim AC02 Kamen Rider Baron Banana Arms
Disclaimer:
All images and videos here are property of their respective owners and used for reference purpose only. We claim no rights to it unless otherwise stated.
Product prices and availability are accurate as of the date/time indicated and are subject to change. Any price and availability information displayed on this site at the time of purchase will apply to the purchase of this product.
Use Facebook to Comment on this Post